Deposit Bonus: Rake-Free Contests


This is my FantasyDraft Review. Thanks for reading!
FantasyDraft Review: My Take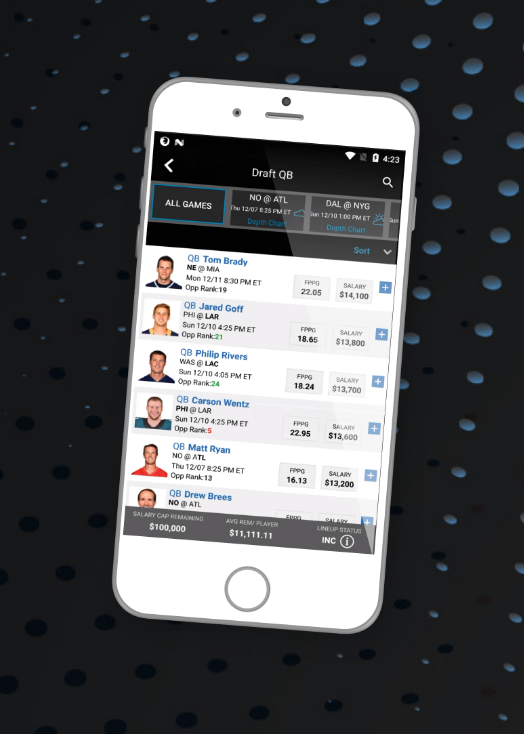 FantasyDraft has a great mobile app with user friendly dashboard for entering contests and tracking your scores. They have super fast payouts with cash in your account after every winning entry.
Sign-Up Steps
Click to signup at FantasyDraft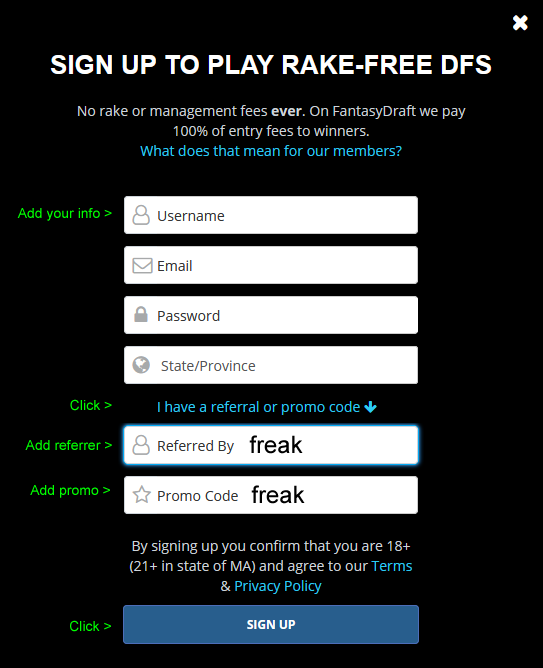 This is the page you will see when you click the link above. Fill in your Username, Email, Password & State, then click the referral / promo code link and enter FREAK. Enjoy your time Fantasy Drafting!
Signup Bonuses
FantasyDraft.com does not currently have a signup bonus. Instead, they encourage signups by offering rake-free contests. Winning players get paid all of the entry fees for that contest. See below for more details.
Commissions / Rake / Fees
What do they mean by Rake-Free?
First, every DFS site takes a rake, similar to a rake in Poker taken by the dealer to be paid to the 'House'. In DFS, every $X you pay in contest entry fees, the daily fantasy site will pay a percentage of that fee to themselves, for providing the contest and the cash prizes.
However, at Fantasy Draft they do not take a rake. They pay out all of the entry fee money to the winning players. If you are a pro DFS player, you would be best to become a member (free) at FantasyDraft, which makes all of your winnings rake-free.
What are the disadvantages of the other daily fantasy sites that take a rake. The rake will either increase the entry fee or decrease the prize pool, both means less money in your pocket. At Fantasy Draft you don't have to worry about that.
Trust & Reputation
FantasyDraft has been involved in daily fantasy sports since 2014 and have continued to take more of the market share from the DFS giants, due in large part to instilling trust in it's players by offering rake-free contests, while the other DFS sites have been raising their rake commissions. FantasyDraft has a reputation of paying out winning prizes on time as advertised. Fantasy Draft has beginner contests to level the playing field for newbs, not having to battle the pros every time. They follow strict Safety and Privacy related to deposits, private information, and follow responsible gaming guidelines.
Scoring System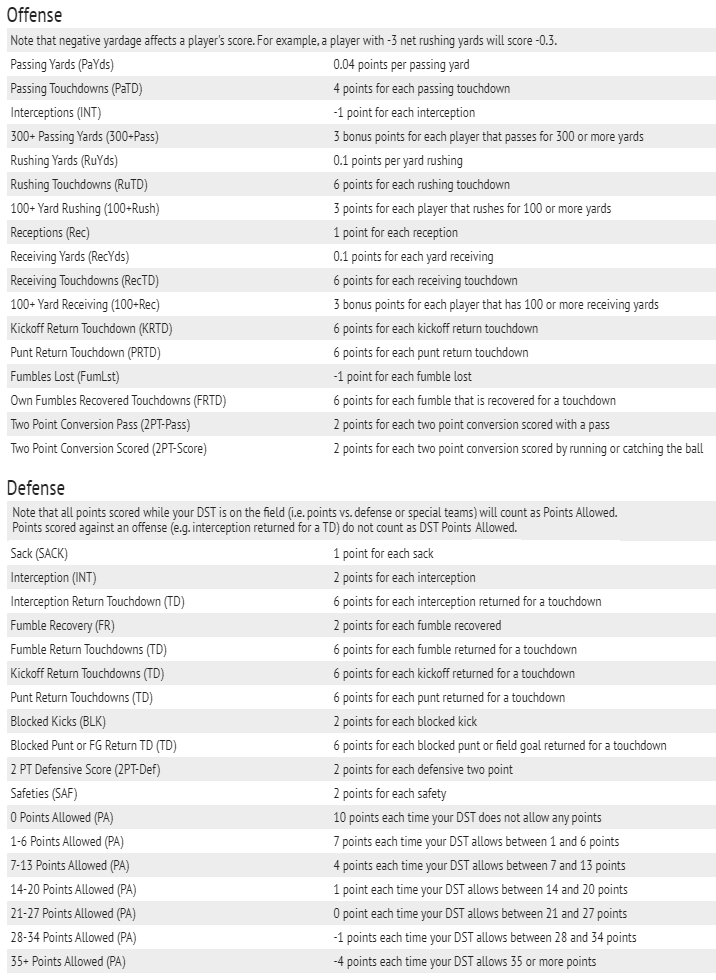 Game Selection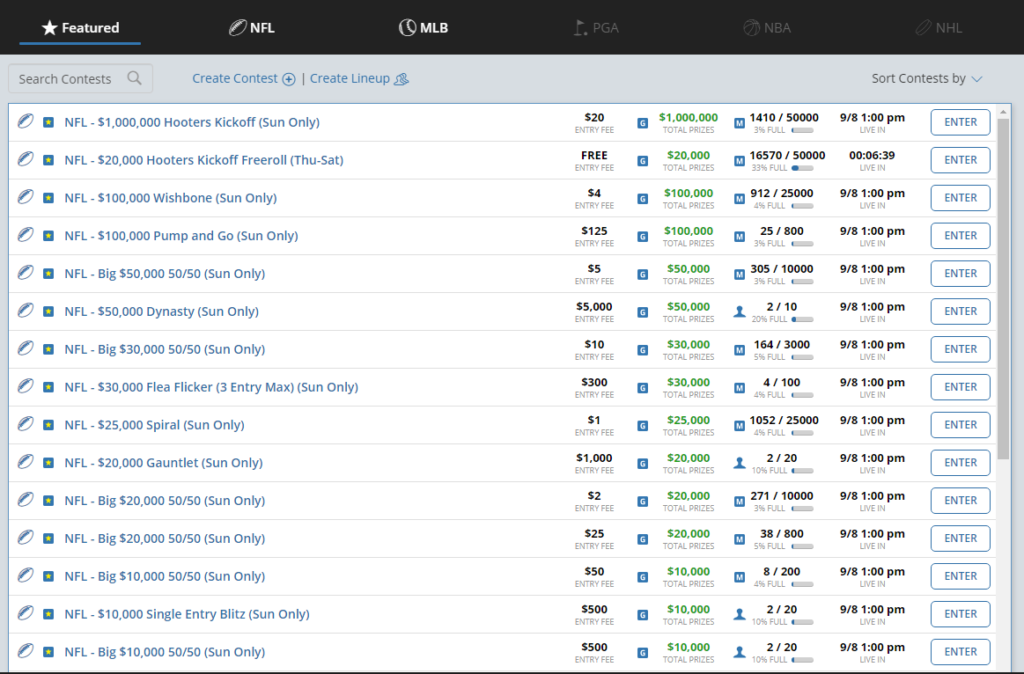 Team Selection
When selecting your teams on FantasyDraft you will pick a player for each of the following positions: QB, RB(2), WR(2), TE, FLEX(2), DST. Use the blue arrow to add a player to your team. Hit the red X to remove a player from your team.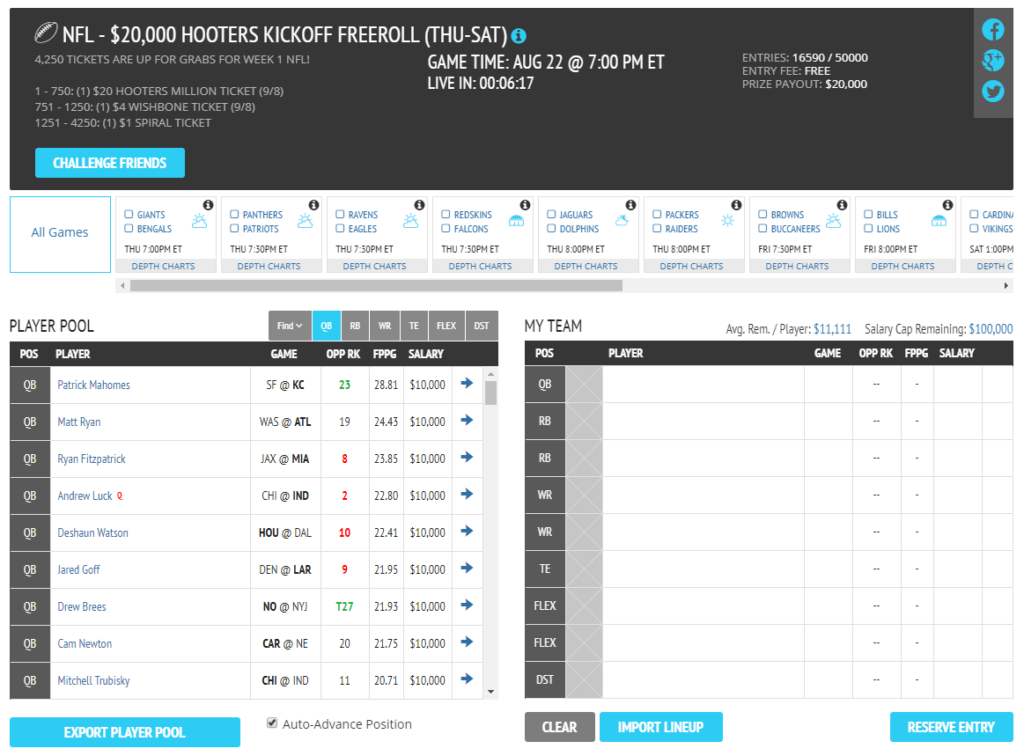 Player News
FantasyDraft uses RotoWire as their player news source. You will see this information when you click on a player when entering your teams. They also provide the opponents rank (OPP RK) for each player and a prediction of how many fantasy points they are going to score that week.
Strategy Guide
FantasyDraft strategy starts with looking at lineups. There are 2 flex spots, so you'll need to have info on more players. QB TD's are 4 pts and it's a PPR +1 format. The more info you can get about each player the better you will be at daily fantasy football at Fantasy Draft.