Deposit Bonus: $3 Contest


This is my DraftKings review. Thanks for reading!
DraftKings Review: My Take
DraftKings is a definitive leader in daily fantasy sports and specifically daily fantasy football. They have a fantastic mobile app and website that are both user-friendly and organized with a professional presentation. I use the DraftKings.com website to enter my teams for the week. Then I use the app on my phone to follow my lineups live on game days. Most daily fantasy players will use just the mobile app these days, but I enjoy having the options of multiple ways to use the software that runs their daily fantasy contests. It is really top notch. Be sure to develop a solid DraftKings strategy to dominate your games!
Sign-Up Steps
If you are ready to signup just click the link to signup at DraftKings and you will see this simple form. Fill it out and hit 'Continue'.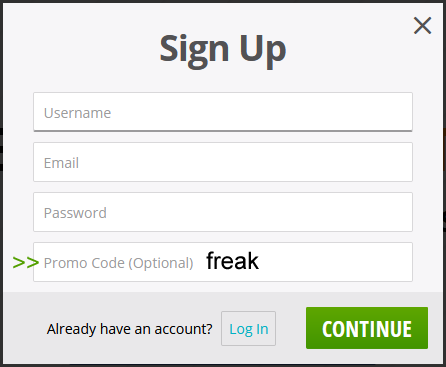 This will then send you to the DraftKings dashboard where you can see and enter this week's contests. Good luck!
>> See instructions on how to signup using the DraftKings mobile app.
Bonuses
DraftKings is offering a free $3 contest entry bonus on your next deposit.
Deposits & Withdrawals
Once you signup you will then need to deposit dollars into your DraftKings account. DraftKings accepts all major credit and debit cards including Visa, Discover, MasterCard, and American Express as well as PayPal. You can also use Visa, MasterCard, and AmEx gift cards to make a deposit.
Security, Trust, Reputation
Draft Kings is a trusted source for DFS games and has a reputation of paying out winning players on time as advertised. They've been offering legit daily fantasy contests since 2012 when they first opened. Employees also enjoy working there as detailed in this article that give you an inside look at DraftKings HQ.
DK uses top-notch encryption security to safeguard consumer info and account funds.
DraftKings maintains a comprehensive security program based on industry standards and best practices. All confidential consumer information is safeguarded by SSL (Secure Socket Layer), as represented by the padlock visible on your browser's address tab. ~ from DraftKings site
Rake / Fees / Commissions
DK has a rake on each of their contests, meaning they take a percentage of each entry fee for themselves. DFS sites use this rake as their main source of revenue. It's how the business makes money. DraftKings uses this to run their company and to create and offer the best promotions for their players. It's up to you the daily fantasy player to calculate the rake for each contest you enter.
DraftKings Lobby – Enter Contests Here
The lobby is smooth and easy to navigate. Just click on the tabs at the top to filter the contests into the type of game you want to play. Then, click on a title of a contest you want to learn more about and you get a tournament details pop open like this: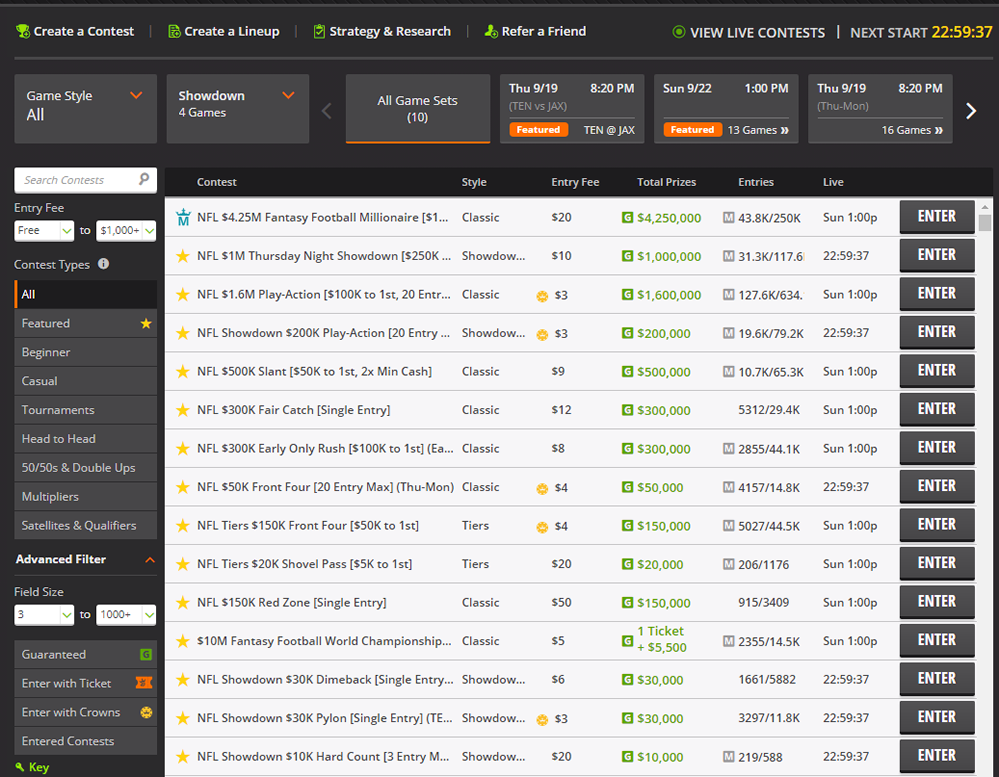 Game Selection
Find a contest you want to play then click the "ENTER" button next to that contest.

Team Selection
The contest details will then open and you will now be able to pick your team by clicking the plus button of the player. Pick each player for your lineup. You can view your remaining salary and average remaining salary per player above the lineup box. This is there to help you keep at or under the salary cap.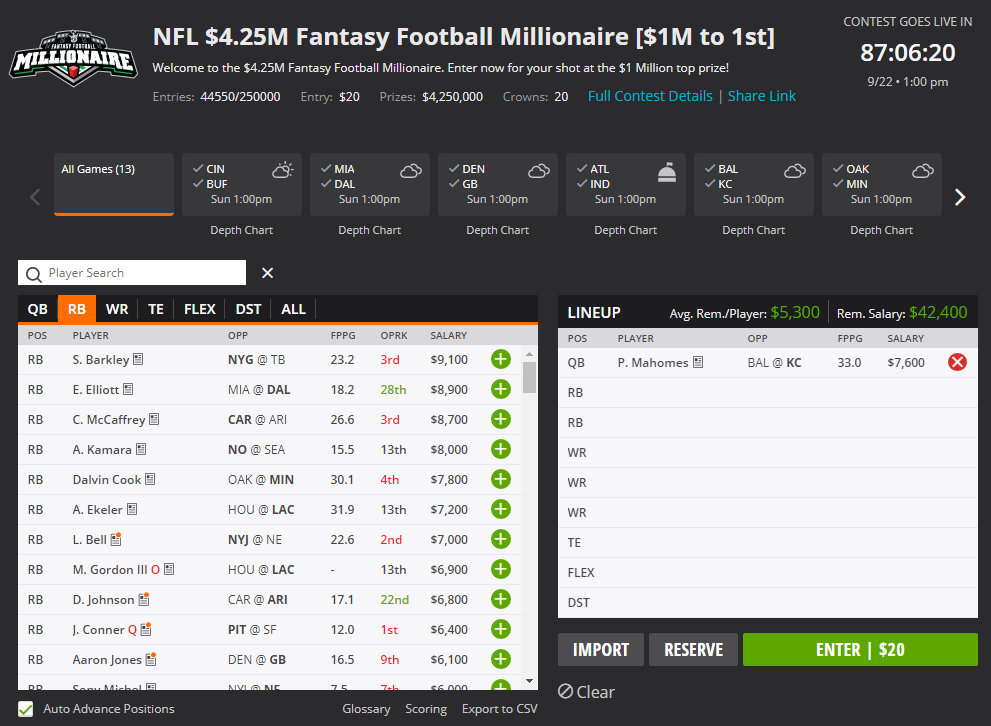 Player News
If you want to learn more about a particular player you can click on their name and you will see all the latest information displayed as shown here: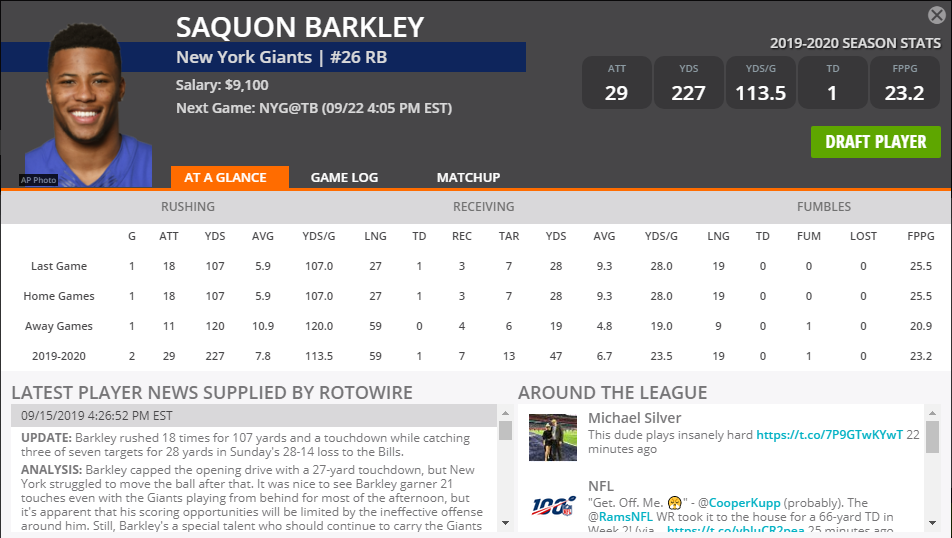 If you feel satisfied with your lineup click the green 'Enter | $X' button at the bottom right. Confirm your all the information in your entry then click 'Submit Linuep' to enter the contest.
Click on the 'My Lineups' tab and go to a screen where you can see your current and historical lineups. View your lineups during a contest to see live scoring updates for your players.
So that's how you play daily fantasy at Draftkings. For a deeper look on how to win see more DraftKings strategy below.
Signup Using the DK Mobile App
Review these screen shots. They will walk you through setting up your DraftKings account using their mobile app. Click on an image to enlarge.
DraftKings Strategy Guide
Strategy for Daily Fantasy Football at DK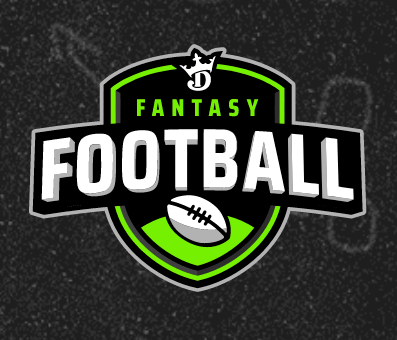 Your DraftKings strategy should start by determining what your goals are for playing daily fantasy football. Then do your own DraftKings review to make sure that it's the site you want to play at. Before you draft your first team, you should never play with more money than you can afford to lose. Playing daily fantasy isn't an easy thing and there are many advanced players who you will be competing with on every contest you play. There is a way to compete for the highest of first place prizes, but you need to have your strategy down pat and be willing to spend hours researching how to win daily fantasy football.
Fun or Income?
So, do you want to just play and have fun? Do you want to do it part time as a way to earn extra revenue?
I play daily fantasy football as a way to have some skin in the game, which makes the games more enjoyable and hopefully I'll win some extra cash at the end of the week. I play the GPP games which are much harder to win. However, the first place prize is usually 6 figures, which would be a cool, life changing event for most people, including myself. That's why I play and hope to create the ultimate lineup that drags that first place pot.
DraftKings Tips
DraftKings is a +1pt PPR (points per reception) league. You get 1 point for every catch.
Your lineup consists of 1QB, 2RB, 3WR, 1TE, 1FLEX (which can be a RB, WR, or TE) and 1DST.
You can edit your player up until the time that they start their game. If you have a player on Monday night playing and he gets injured by slipping on a pickle in the locker room 30 minutes before the game begins, you can switch that player and draft someone else who is playing that night, i.e. his backup or the opposing RB
You can not see other players lineups until the game that their player is in begins. Then you will see that player listed and live scoring and ranking takes place.
During the game you can watch your scores and current position in your contests live as it happens.
DK scrolls fantasy points leaders (the nfl players) at the bottom of the page. You can see a screenshot of the weekly leaders that updates as the games go on.
The employees of DK that set player salaries have sharpened their game and bargain players are getting harder to find.
The player profile information and stats are always up to date, which isn't always the case at daily fantasy football sites.
Scoring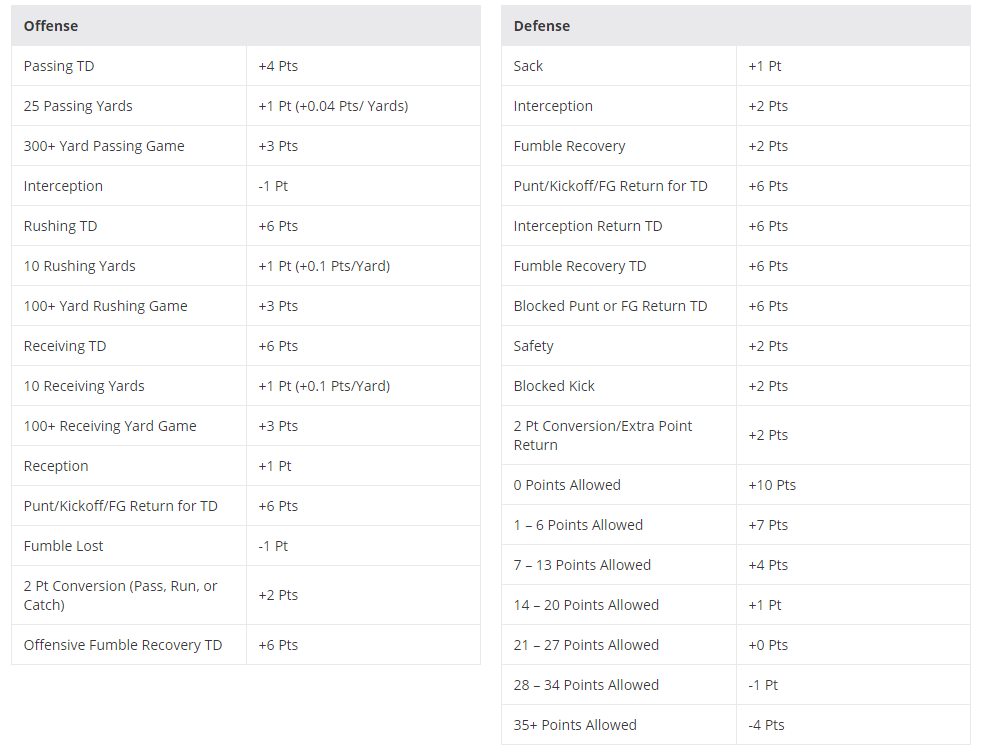 DraftKings vs FanDuel
After playing several NFL seasons at both Draft Kings and Fan Duel, I'm liking the Draft Kings more and more. They're scoring system is a true PPR league, rewarding +1 for a catch. Where Fan Duel rewards +.5 per catch. Here are a few player points comparisons:
Matt Forte – [DK] 26.1 pts | [FD] 19.6 pts
LeSean McCoy – [DK] 24.7 pts | [FD] 19.2 pts
Victor Cruz – [DK] 22.8 pts | [FD] 15.8 pts
DeSean Jackson – [DK] 37.3 pts | [FD] 29.8 pts
I hope you have enjoyed my DraftKings review. I'm constantly updating it, because there are always changes to the DK site, new promos, and daily fantasy changes in general.
DraftKings.com is my choice as best daily fantasy football site for 2019!