Weekly Fantasy Football Sleepers at DraftKings – NFL Week 4
Sleepers and Value Plays for NFL Week 4 at DraftKings.com
Through three weeks, we now know that the Seahawks and the Broncos are more evenly matched, we know the Eagles are going to give us a game every week and we know that the Jaguars are still pretty bad! Here's the week 4 picks.
Quarterbacks
Phil Rivers – San Diego Chargers $7,700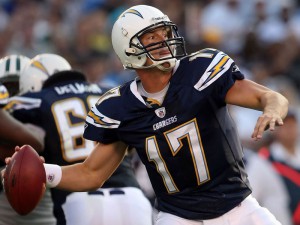 This is possibly the easiest pick of the season so far. The Chargers lost by a point to the high flying Cardinals in week one and have had two impressive wins over the Seahawks and the Bills since. Rivers is also playing very solidly, with six TD's and just one interception with a QB rate of 108.3 so far. The Jaguars come to San Diego this week, so there is no doubt that Rivers will have plenty of opportunity to use his arm. I picked Luck last week against this defense, and at that salary, there is no reason not to pick Rivers.
Colin Kaepernick – San Francisco 49'ers $7,600
This week the 49'ers face the undefeated Eagles. This is the undefeated Eagles who have given up 78 points in their first three games (scoring 111 themselves) and are ranked 30th in pass defense. Caepernick and the 49'ers haven't started off great, although he won't be too disappointed with a pass completion percentage of 70.2%. However, part of me thinks the Eagles are getting away with it right now, and I'm not sure they are capable of heading to the west coast and coming away with anything. Kaepernick could be great value come the end of the weekend.
Running Backs
Lamar Miller – Miami Dolphins $6,200
With Knowshon Moreno out, Miller is the player who is reaping the benefit. This week, the Dolphins travel to the UK to face the Raiders, a game where home advantage will be somewhat equalized (both teams are very popular in England). Last week Miller ran for 108 yards in 15 carries, and against a poor Raiders defense (ranked 31 against the run) he can certainly put up at least similar numbers.
Donald Brown – San Diego Chargers $5,400
Donald Brown has carried 40 times so far this season for just 81 yards, so you're probably raising your eyebrows reading this. But here's the thing. This guy is getting lots of carries and he is not that bad, he averages 4.2 yards per carry in his career (5.3 in 2013). With a lot of carries against the Jaguars this week, there could be some big numbers against Brown's name, and his average certainly won't be as low as 2.
Knile Davis – Kansas City Chiefs $6,200
Davis had 32 carries for 132 yards and scored last week against the poor Dolphins and the Chiefs have got their season rolling after a 0-2 start. This week they host the Patriots, whom I expected more from last week despite the victory over the Raiders. With three touchdowns already this year, Davis is full of confidence and looks good value this week.
Wide Receivers
Eddie Royal – San Diego Chargers $4,600
Last week the quarterback/wide receiver combination worked well, so I'm going to stick with it this week. Eddie Royal has caught twelve passes this season and, running in two for scores – and there is no doubt that this week he will have plenty more opportunities to trouble the scorekeepers. You might have noticed a theme here, in that I'm loading up against the Jaguars – simply because there is no reason not to. They are that bad.
Michael Crabtree – San Francisco 49'ers $6,400
Crabtree is making catches for fun so far this year, catching 19 for 187 yards and a couple of touchdowns. The Crabtree/Kapaernick combination has potential this week, and with the Eagles being 3-0, I'm not sure many daily fantasy sports players will go for it, meaning that if it hits big, there won't be too many other players joining you. This might be a good combination in some of the larger field events – a boom or bust strategy.
Steve Smith Sr – Baltimore Ravens $5,600
With 18 receptions, 290 yards and a touchdown Smith is a player who is on fire right now. The Ravens have bounced back from their opening day defeat with two wins and face the Panthers this week who were extremely disappointing late Sunday night. How will Smith cope with playing against the Panthers whom he spent 13 years with? This could go either way, but he is sure to want to put on a show.
Tight End
Antonio Gates – San Diego Chargers $4,400
My final San Diego pick this week. Gates is another real value player in week 4. Gates has had more receptions than any other Charger this year, more yards, more Touchdowns and seems to be the go to guy in and around the red zone. The salary of $4,400 just shouts value town to me. Did I mention that I don't rate the Jaguars?
Defense/Special Team
Detroit Lions – $3,000
The Lions have only given up 45 points this year so far (joint 2nd in the league). This week they play the struggling Jets, who have suffered back to back defeats, and play this game with a day less rest. The Lions and the Jets are ranked 1 and 2 in total yards allowed this season, so this looks like a low scoring game. I expect the Lions defense to Geno Smith and the Jets quiet.
Experience championship-level fantasy football like never before by joining the
FanDuel
$10,0000,000 World Fantasy Football Championships!