Fantasy Football Sleeper Picks – NFL Week 8 at DraftKings
The NFL season has become very interesting in recent weeks. The Seahawks don't look quite so dominant as they have been, the Cowboys are rising to prominence, the Broncos look to be charging towards the playoffs and the Jaguars are no longer winless. Here are my week eight picks.
Quarterbacks
Russell Wilson – Seattle Seahawks $8,400
The Seahawks are struggling and after back to back defeats look something of a shadow of the team that dominated the Broncos at the end of last season. However, Russell Wilson is actually performing to the same standard – his rating at 101.9 compared to last year's 101.2. This week they face the Panthers who are 3-3-1 despite giving up over 35 points in four of their last five games. This is a team who are struggling defensively and I expect Wilson to take advantage this week.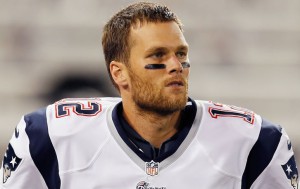 Tom Brady – New England Patriots $7,200
Brady and the Patriots are on a roll having won three straight games and this run has seen Brady throw for nine touchdowns and no interceptions. This week they face the Bears who have lost three of their last four, losing at home to the Dolphins at the weekend. Anything apart from a hefty victory for the Patriots would be a surprise this week, so I see Brady as value.
Running Backs
DeMarco Murray – Dallas Cowboys $8,600
I picked Murray last week and I see no reason not to pick him again. Last week he rushed for 128 yards on 28 carries including a touchdown, which makes an amazing 913 yards on the season. This week they face the Redskins in Dallas in what could be the biggest mismatch in this famous contest for a long time – despite the high salary Murray is value here.
Lamar Miller – Miami Dolphins $6,000
Miller has scored four touchdowns this season and rushed for 391 yards in his six games so far. With Knowshon Moreno out for the year, Miller will have more rush attempts than any other Dolphin. This week they face the Jaguars, who despite a win at the weekend are still a 1-6 team, and you'd expect the Dolphins to come away with a W.
Justin Forsett – Baltimore Ravens $5,100
The Ravens are quietly racking up wins and sit with a 5-2 record at the head of the AFC North. Last weekend Forsett had 23 carries for 95 yards and seems to be improving game on game. This week they face the Bengals who look nothing like the team who started 3-0, suffering two heavy defeats and a tie in the three games since. The Bengals defense is ranked 27th against the run.
>Wide Receivers
Doug Baldwin – Seattle Seahawks $4,700
With Percy Harvin having been traded to the Jets, it opens the way for Baldwin. Having already picked Russell Wilson I see potential in this QB/WR double up this week against the Panthers defense. For a combined salary of $13,100 I think you'll be receiving value.I don't see too many of the crowd plumping for the Seahawks this week and going against the crowd is never a bad thing in Daily Fantasy Sport.
Jordy Nelson and Randall Cobb – Green Bay Packers $7,800 and $7,500
The Packers have won four straight, three of them in dominant fashion by over 20 points. This week they travel to New Orleans who are struggling against the pass. Nelson and Cobb are both catching for fun this season, Nelson with 712 yards and six scores, while Cobb has 452 yards for eight touchdowns. I came close to picking Aaron Rodgers as a QB this week, but this might be a slightly cheaper way of making use of his arm.
Tight End
Owen Daniels – Baltimore Ravens $4,100
I see Daniels as great value this week against the out of sorts Bengals. With Dennis Pitta out for the year, Daniels has a chance to make his mark, doing so at the weekend with 6 receptions for 58 yards and a touchdown – his third score of the year. For $4,100 you won't be going too far wrong in picking this player.
Defense/Special Team
Miami Dolphins – $3,300
The Dolphins have just come off the back of an excellent win in Chicago and will expect to add to their win tally this week when they play the Jaguars. Despite their win at the weekend, the Jaguars are still the second lowest scoring team in the league (the lowest of all the teams who have played seven times) and the Dolphins have given up less yards than any other team in the NFL.
Experience championship-level fantasy football like never before by joining the
FanDuel
$10,0000,000 World Fantasy Football Championships!