DraftKings Value Players – NFL Week 10
Fantasy Football Value Plays for NFL Week 10 at DraftKings.com
The biggest story from week nine was from the AFC, with the Patriots solid victory over the Broncos. This win means that the Patriots are suddenly the team to beat and look to be in a fascinating battle with the Broncos for home field advantage in the post season. In the NFC, the Cardinals recorded their 4 th straight win to lead the way with a record of 7-1.
Here are my picks for week 10.
Quarterbacks
Aaron Rodgers – Green Bay Packers $9,400
The Packers are coming off a bye week and will be looking to bounce back after their defeat in New Orleans. Rodgers has the highest QB rating in the league (113.6) and at home this season he is even better at home with a rating of 135.7. This week the Packers host the Bears who are ranked 23rd against the pass. Even though slightly expensive, I still see Rodgers as value this week.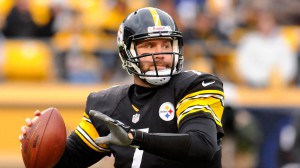 Ben Roethlisberger – Pittsburgh Steelers $7,500
Roethlisberger has a QB rating of 110.6 this year so far, the best of his entire career. Right now the Pittsburgh Steelers are flying having scored 30, 51 and 43 points in the last three games against solid opponents. This week they play the struggling Jets, and there is every reason to think that Roethlisberger and the Steelers will spend plenty of time on the field – $7,500 could be a steal this week.
>Running Backs
DeMarco Murray – Dallas Cowboys $8,600
The Cowboys travel to England this week to face the Jaguars at Wembley Stadium and although this is officially a Jaguars home game, the Cowboys have a big following in the UK, so it will be negated somewhat. Murray is the leading rusher this season by over 300 yards and will surely see a lot of the ball against the Jaguars, who are ranked 24th against the rush.
Ronnie Hillman – Denver Broncos $6,100
This pick is as much about the opposition than it is about Hillman, with the Oakland Raiders being winless and 27th against the rush. The Broncos will surely be looking to bounce back in style this week after their loss to the Patriots. Hillman is only averaging 60.8 yards per game rushing but last week also caught seven receptions, and a similar performance would make this a value pick. In my opinion he will do better.
Bobby Rainey – Tampa Bay Buccanneers $4,400
Last week Bobby Rainey made 19 runs for 87 yards and made a catch for 34 yards. Similar figures to these this week would make Rainey great value, and there is no reason to think otherwise as they face the Falcons who give up more yards than any other team and are ranked 25th against the rush.
Wide Receivers
Jordy Nelson – Green Bay Packers $7,600
This is another of my weekly QB/WR combinations. This was actually a very tough call between Nelson and fellow Packers wide receiver in Randall Cobb, especially with Cobb being $200 cheaper. However, Nelson is the guy who Rodgers goes to most often (78 targets as opposed to 55), and this gives him the edge (if you need the $200, it wouldn't be a huge mistake to switch them around).
Jeremy Maclin – Philadelphia Eagles $8,300
Maclin is on fire right now, his last two games seeing him catch for over 345 yards and four touchdowns. This could be something of a gamble, as Mark Sanchez will be at quarterback, although it seemed to work, as Sanchez's very first attempt was a 52 yard reception for Maclin. The Eagles are hosting the Panthers who are winless in four, and anything other than a solid win for the Eagles would be surprising.
Julio Jones – Atlanta Falcons $6,600
The Falcons are coming off a much needed bye week after a run of five straight losses. This week they face the Buccaneers, a team the Falcons trounced 56-14 last time they met. In that game Jones caught two touchdown passes and made 161 yards, so he will welcome a chance to match up against that defense again. Jones is the one bright spot in the Falcons team and could put up some big numbers this week.
Tight End
Jason Witten – Dallas Cowboys $4,600
Witten is having a solid, if not spectacular season having caught for 398 yards and 2 touchdowns this year. Last time out he had one of his better games, with six receptions for 62 yards in the defeat to the Cardinals, and will expect more against the weak Jaguars. His performance could be further improved by the probable return of Tony Romo on Sunday.
>Defense/Special Team
Philadelphia Eagles – $3,200
The Eagles have gained more fantasy points per game this season than any other team in this category and the defense have managed a complete shutout at home this season against the Giants. The Panthers have scored just 36 points in the last three games, so the Eagles look like they are a good price this week at just $3,200.
Experience championship-level fantasy football like never before by joining the
FanDuel
$10,0000,000 World Fantasy Football Championships!